Doggy Adventures with K9Ascent
Ashley Diaz from K9Ascent has been my dog,  Jake's, walker for quite some time now. Ashley is a dedicated dog walker and pet sitter from the Pacific Northwest, with a passion for enriching the lives of dogs through knowledgeable and compassionate care. We met when Ashley sought a safer solution for transporting her doggie clients to local parks and trails for their walks and purchased a set of BreezeGuards. Throughout the years, Ashley and Jake have formed a special bond, enjoying hundreds of walks together.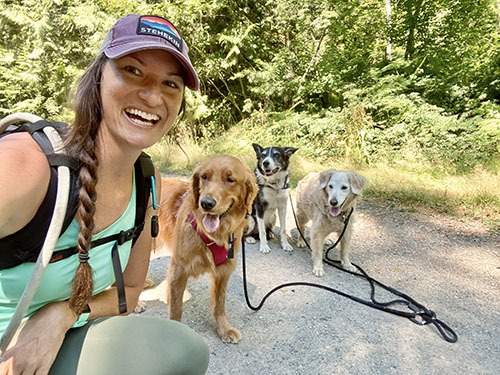 In 2021, Ashley continued her education in animal behavior & training and brings this knowledge to her small business to provide the best care possible to all her furry clients. She loves taking dogs on decompression walks where they can exercise, explore and follow their natural instincts in a safe environment. Here's
a short video of Jake decompressing!
Now, as Ashley embarks on a new adventure in Boulder, Colorado, she aspires to continue providing services that bring joy and enrichment to the daily lives of dogs through her small business, K9Ascent.  To learn more about Ashley and the adventures she offers for dogs, visit her website or check out her services on Facebook and Instagram.